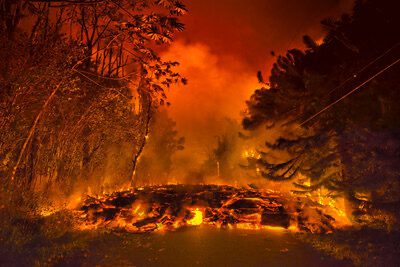 I'm writing this a few days after the wildfire disaster in Lahaina, Maui, that killed many people and destroyed numerous homes and businesses. Videos showed numerous destroyed cars, many of which appeared to be trying to get out of danger. There was little or no warning for people to protect themselves.
In Colorado, there have been several significant fires the past few years. Once a neighbor evacuating an area saw a couple sitting by their garage watching the oncoming fire. He stopped to warn them, but they didn't quickly evacuate. Their bodies were found beside open doors of their car.
Too late!
Of course, there are many times of unexpected death, not just fires. Any of those can be too late!
Spiritually, we have been warned of the coming wrath of God. Some people, when told about Jesus Christ, say "later." "Fun now, Christ later."
But it can be too late.
Therefore, just as the Holy Spirit says, "Today if you hear His voice, Do not harden your hearts … (Hebrews 3:7–8)
Spiritually, there is a last chance. If you hear His voice, pay attention! Repent! Confess! Believe in Jesus Christ. Put your trust in Him!
NOW is the time of salvation.
Don't be too late!